We love wood!
Wood as a material is incredible to work with – the natural choice.
Each type of wood has its own characteristics, graining, scents, flaws, strengths and limitations. It is organic in nature and has a warm and inviting surface that lets it self be worked when choosing the right type of wood for the job.
We carefully select the materials so that they match the intended use and give the best possible result. We choose the materials by their sustainability, look and unique qualities. Each of the wooden parts on the bed has been selected specifically for its use and placement.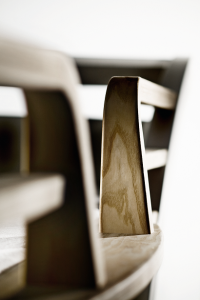 We only use sustainable materials. Before being worked with the wood has to be dried down so as to not dwindle and crack when later on it is situated in room temperature. Discoloration and knots are cut off so that only the flawless pieces are used in the further processing.
Differences in color and graining in the surface of the wood are key when the components are assembled in the bed. The layers of veneer has differences in structure and minor deviations in moisture that causes the arches to have slight differences in height. We therefore pair up each set of arches to ensure a match both in height and in the steps.
Each bed therefore has its own unique coloration, graining and height. Before carefully being packaged and made ready for shipment each bed receives a serial number.
Warning: count(): Parameter must be an array or an object that implements Countable in /customers/5/6/7/mimondo.dk/httpd.www/wp-includes/class-wp-comment-query.php on line 399